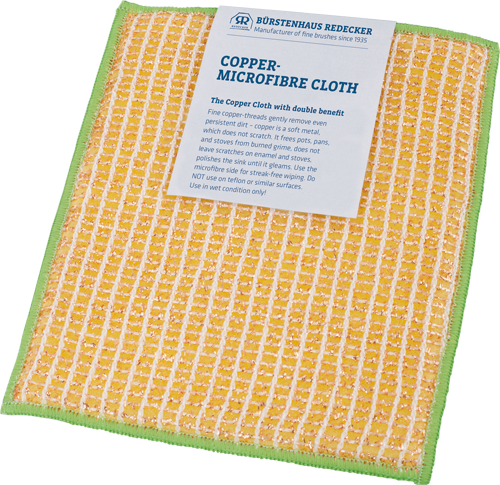 copper-microfibre cloth
English
The copper cloth with double benefit. Fine copper-threads gently remove even persistent dirt. Use the microfibre side for streak-free wiping.
copper/microfibre
Size: 16 x 19.5 cm
Article-no.
250162
Copper makes sensitive objects shine!
The copper products clean pots, pans, sinks, ovens, ceramic cooktops, glass, stainless steel, etc. especially thoroughly and gently. Perfect for removing rust from cutlery. Also ideal for all shiny parts of bicycles and motorcycles, as well as for glass and chrome parts and aluminum rims on cars. Fine copper threads loosen even the most stubborn dirt carefully – because copper is a soft metal that is non-abrasive. Not suitable for Teflon or other non-stick surfaces. Use in wet condition only!